PLEASE MAKE SURE YOU ADD STARRESOFT.COM TO YOUR EMAIL SPAM ALLOW LIST. Otherwise our responses may be blocked.
Starre Enterprises, Inc./StarreSoft offers support to our registered users that are current with their Support Maintenance, via our Help Desk.
When sending bug reports, please include as many details as possible and make sure to include your software title, version number, and Windows version.
In many instances, a screenshot is very helpful. If your question is difficult to describe in words, please include a screenshot. (ALT + Print Scrn, paste as a new image in MS Paint, Snipping tool, or Snip and Sketch, save and attach to this to our Help Desk.)
Be sure to check your Help text file that is included in the software. Just click on the Help menu, then click on Help. Most of the questions that are sent to our customer center, can be answered there. We don't mind answering the same questions over and over again, but it helps to check there first.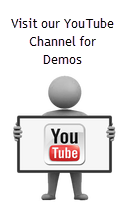 We also off our On-line Knowledge Books, that contain the most up to date information about our software. So, be sure to check this area first for assistance.
You can obtain our Updates/Upgrades information here.
Our privacy policy is listed here.
---


Click here for REMOTE SUPPORT when advised.